When you're fundamentally changing the nature of your city's streets, it'd be best to keep a detailed record of your process. Fortunately, NYC has done just that.
On Friday, during a keynote address at the MAS Summit, NYC's Department of Transportation Commissioner, Janette Sadik-Khan, unveiled the second edition of the city's Street Design Manual -- a living guidebook on how to design New York's streets, based on the best practices learned and enacted by the DOT in recent years.
If you're unfamiliar with this document and its purpose, check out our video below with Margaret Newman, Chief of Staff at the DOT, who discusses her work on the first edition of the manual, released in 2009:
The full Street Design Manual is available online, but at the Summit on Friday, Sadik-Khan highlighted some notable additions.
For starters, said the Commissioner, the new manual details "the anatomy of pedestrian safety islands," including specifications on what works where, and the potential hiccups with this type of infrastructure. Further, it introduces forthcoming features for the city's streets, including City Light, a new streetlight for New York featuring an LED arm -- the prototype of which is currently being tested in some areas.
The updated manual also provides best-practices on how to deploy certain street furniture, like CityRacks -- individual bike racks and bike corrals. The CityRack is described as a "33.7-inch-diameter, cast-metal circle with a horizontal bar across the center," and further detail is provided on where and how to set these up. For example, regarding the siting of these racks, the manual notes:
12-foot minimum sidewalk width
Away from pedestrian flow, usually at the curb, and always away from crosswalks
If installed at the curb, clearance from the curb must be a minimum of 18 inches
Must not be installed on pavers, cobblestone, brick, stone/slate slabs, custom/patterned concrete, or metal grates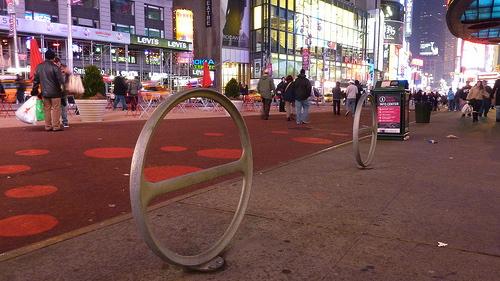 Another important addition to the Street Design Manual is a chapter on landscape improvements which factors in the need to design for climate change.
"With the prospect of global climate change and extreme weather right in front of us, we have to find new ways to work with the built and natural environment," said Sadik-Khan on Friday. To that effect, the Street Design Manual depicts how to install tree beds, roadway plantings, sidewalk and plaza plantings, and storm-water-capture installations.
The manual even includes a chart on recommended tree-bed plantings, with specifications on their appearance, and the types of weather conditions they can tolerate: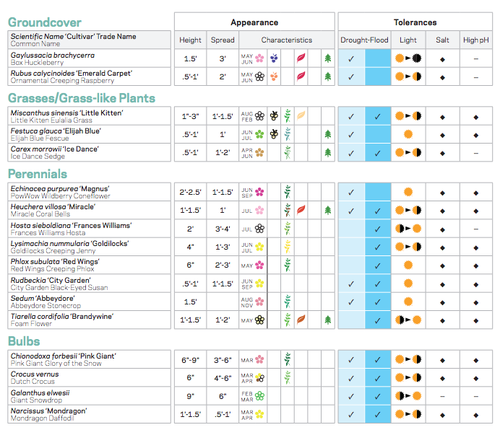 These are just a few of the new highlights found in the 264-page Street Design Manual. The document provides an extensive and detailed overview of the additions and improvements that have been and are being made to New York City's streets. While it is, indeed, specific to New York, it's worth a look for anyone charged with managing, or reinventing, streets and public spaces anywhere. With such specific details on dimensions, locations of certain amendments, specifications on materials used, etc., the document will serve as a saving grace for any newcomer to New York's transportation body looking to continue on this path of progress.
With this city gearing up for an election, and the next mayor set to inherit streets that look nothing like the ones of the previous administrations, the updated Street Design Manual comes at the right time. Here's hoping the new administration puts it to good use.
Related posts:
— Nicole Ferraro,

, Editor in Chief, UBM's Future Cities