If you have been alive for longer than five minutes, you've heard "big-data" and "city" used in a sentence. But talking about big-city data is easy.
Doing
it is tougher.
Big-data (and sometimes just plain old data) was the subject of a panel discussion at yesterday's CityLab event at the Conrad Hotel in lower Manhattan. Enthusiasm for using city data to create just about any application one can imagine has been high in recent years, but the panelists were frank in admitting that we're still several hurdles away from having the data-driven cities many have been envisioning.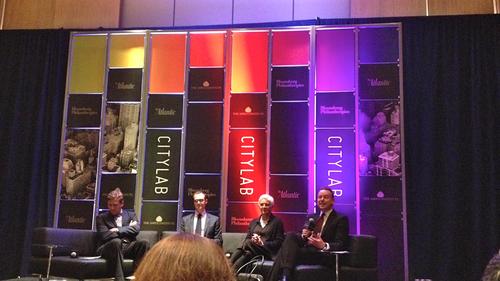 Here's a look at four challenges, as outlined by Monday's panel.
Data's Catch-22
Let's start with the money. As Geoff Mulgan, the panel's moderator and chief executive of the independent charity Nesta, said at the start of the session, there are "grand claims" being made about how much money can be earned from public data. But there's not much evidence to support those claims, and when it comes to investing government money, there's a lot of pressure on officials to be able to confirm that there will be a return on their investment.
Emer Coleman, an architect with the London Datastore, who previously held a position at the Greater London Authority, called this a Catch-22. "You don't want to spend money on data if you're not guaranteed to make money from it," but no one will know if money will be made on data if they don't spend on it first.
Oh, the conundrums of our digital age.
Lack of collaboration
Another point emphasized by Coleman was that we're not going to get very far until we have collaboration with all sectors and across all cities. For someone like Coleman, that still seems like a bit of a laugh. Having worked within the government, she has seen how hard collaboration within one sector can be. To back that up, she recalled a time when one part of Transport for London (TfL) had to send a Freedom of Information Act request to another part of TfL in order to get access to a dataset.
Another challenge that is contributing to the lack of collaboration across cities, and thus stopping us from getting much value from open data, is the lack of standards. Chris Corcoran, the deputy in the New York City Mayor's Office of Analytics, offered restaurant ratings as an example. Many cities give grades to restaurants, but not all cities follow the same standards. New York gives letter grades, while San Francisco gives ratings on a scale from 0 to 100.
Privacy fears
When it comes to public data, managing user privacy is an issue that continues to confound city governments. But Corcoran said that some of this has to do with the need to protect citizens, and some of it may have to do with how people perceive what should be public versus what should be private. For example, property owners expect that everyone can find out how much they paid for their home, but renters don't expect that people can easily find out how much they're paying for their lease. "Yet those two pieces of information are essentially the same. It seems there are opportunities to develop norms to make people more comfortable with data."
Another point Corcoran emphasized is that people are much more comfortable with private companies having their data than they are with the government having it. "What's frustrating for us is most people have a much higher level of trust for Foursquare than for the city they live in," he said. "I think people would be very surprised to know private companies are selling their demographic information to marketing companies all over the US."
Self-interest vs. true need
Another intriguing red flag was raised by Dr. Anthony Townsend, research director at the Institute for the Future and author of the new book Smart Cities. He said that a huge concern is that the "right" people -- governments, planning agencies, and planners, for example -- are not prepared to be able to take advantage of all this data.
With that being so, the great risk is that "we'll end up arming the wrong people who have self-interest in mind, and not public interest."
So, who are those wrong people? "I don't want to say developers, but they're the first ones that come to mind. Their self-interest is really clear. They have the ability to leverage data and be really effective."
To hear more about Townsend's concern about arming the wrong people with public data, the challenges of big-data in cities, and the topic of smart cities in general, please tune in tomorrow, Wednesday, Oct. 9, for our Future Cities radio show featuring Anthony Townsend. The show goes live at noon ET/9:00 a.m. PT, and you can register and share your questions for Townsend right here.
Related posts:
— Nicole Ferraro,

, Editor in Chief, UBM's Future Cities