New York City has begun setting up infrastructure for its coming bike-share program,
Citi Bike
. Is that good news? That depends on who you ask.
Though the long-awaited program was discussed at no fewer than 159 public meetings, the sight of the bike docking stations themselves has apparently sent many New Yorkers into fits of rage and hysterics. Rather than re-report the mania, here are some of the recent headlines about New Yorkers' response to the Citi Bike terminals that have started cropping up around town.
The complaints include disgust at the sight of the terminals, concern that the bike hubs will obstruct pedestrian traffic, worry that this increase in bikes on city streets will somehow cause more automobile congestion, fear about drunken bicyclists, gripes about loss of parking, something nonsensical about the hubs attracting mice and garbage, and anger toward the corporate branding in residential neighborhoods.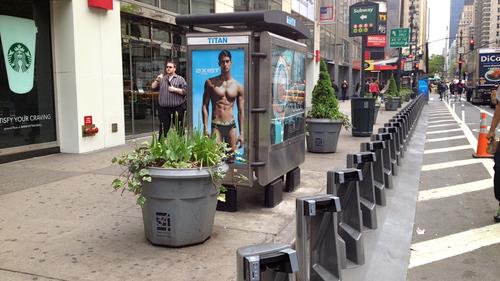 Some have even expressed their distaste in destructive ways. One station at Hanover Square and Pearl Street was vandalized.
I was over in Boston this week (where, by the way, I looked longingly at the city's Hubway bike-share terminals) at the Verge conference. I had the chance to talk with Margaret Newman, chief of staff for New York City's Department of Transportation. When I mentioned the unruly response to Citi Bike, she looked tired and expressed hope that people's reactions would be more positive once the actual bicycles start to arrive on May 27. I hope she's right.
If I have a complaint about Citi Bike, it's that it's not being installed above 59th Street in Manhattan and is therefore missing my Upper East Side neighborhood entirely -- which, by the way, is already underserviced by mass transit. (See: Waiting for a Subway, Since 1929.) The reason is that New York is a big place, and Citibank's $41 million investment was enough to cover, among other things, only 6,000 bicycles. Until Citibank, or perhaps another sponsor, coughs up some more cash, uptown residents will not have bike-share service.
Rather than breathing a sigh of relief that my street isn't being defaced by unsightly bike hubs (gasp!), I'm hoping is that the program turns out to be a success and therefore can expand and serve as much of the city as possible.
To my fellow New Yorkers who complain about the sight of the new hubs, I say: Yawn. Get over it. Bike-share stations aren't the problem. Your reluctance to change is.
Cities are changing, and the design of our streets must shift to meet our ever-evolving needs. A healthy city is not only well served by mass transit, but also walkable and bike-ready. The New York City Department of Transportation, led by Janette Sadik-Khan, has worked tirelessly to give the city's streets back to its people through pedestrian plazas, bike lanes, and now Citi Bike. Complaints about the sight of these hubs are not only irrational. They're boring and unproductive.
Bike sharing will allow New York (like Boston, London, Washington, and others) to take another step forward into the future. All of this will make New York a healthier and more positive place to live and visit, with a lower carbon footprint -- which is the promise of a true 21st-century city.
Change never comes easy, but after a while, one learns that it was worth the fight. My suggestion to New Yorkers and residents of any other cities grappling with growing pains: Stop complaining, and come along for the ride. But don't forget your helmet.
Related posts:
— Nicole Ferraro,
, Editor in Chief, UBM's Future Cities