When French peasants had no bread, Marie Antoinette supposedly offered the advice, "Let them eat cake!" As water supplies diminish, the cries of "Let them drink toilet water!" seem less appetizing.
Still, a surprising number (to us, at least) of individuals voting in a Future Cities poll in early January said they were, indeed, in favor of what's known as toilet-to-tap, or the act of turning wastewater (a.k.a., toilet water) into drinking water, for public consumption. Responding to the question, "Facing water shortages, global cities, including San Diego, Singapore, and others, are experimenting with turning wastewater into drinking water. Are you in favor of this idea?" here's how almost 200 respondents voted: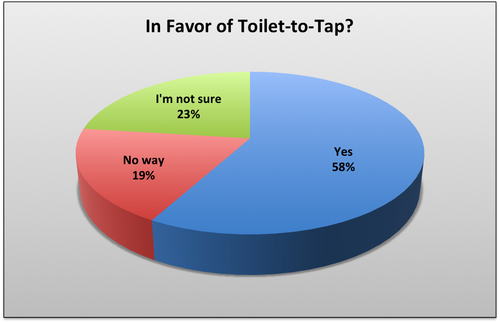 It wasn't the result I was expecting, particularly after reading a Future Cities blog from Professor Asit K. Biswas, founder of the Third World Centre for Water Management, in October, in which he cited a study showing that 15 percent of respondents wouldn't even wash their cars with recycled wastewater.
That more than half of our respondents gave a hearty "Yes" to the toilet-to-tap method demonstrates a slow but sure acceptance that we've seen happen on the ground as well, in cities such as San Diego, where recycled wastewater has recently begun to receive consumer approval. However, the city has not started to benefit from that change in attitude, due to lack of political will and hold-ups from the health department.
I spoke with Belinda Smith, volunteer at Surfrider Foundation, a non-profit organization dedicated to protecting oceans and beaches, who works on a campaign called Know Your H2O, in support of recycled wastewater, or Indirect Potable Reuse (IPR), in San Diego. Smith emphasized that, while 10 years ago the public was largely opposed to the idea, they became open to it after receiving education on the issue.
"By and large, the population, especially in San Diego, understands that resources like water are just increasingly scarce," she told me. "Everybody knows they have to play a part."
Still, in the time it took San Diego's public to accept the idea, neighboring Orange County was able to get it accomplished, and now recycled wastewater flows from their taps: "If you go to Disneyland, you're drinking recycled water," says Smith.
And toilet-to-tap (or as Smith called it in The New York Times last year, "toilet to treatment to treatment to treatment to tap") may not be just around the corner. San Diego County has recently approved the largest desalination plant on the West Coast, in the City of Carlsbad, which is purportedly designed to produce 50 million gallons of purified drinking water a day. Desalinated water is expected to cost San Diego's water agency twice as much as reservoir water.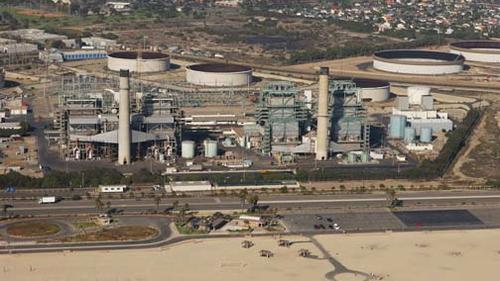 "We feel that there is a possibility that IPR will never get approved because desalination is a quicker fix, and realistically much easier to implement in terms of political will," says Smith.
But she stressed that it's not actually a "quick fix" because it only worsens the water scarcity problems cities are already facing.
"People think there's a never-ending supply of water in the ocean. That's just not the case."
Related posts:
— Nicole Ferraro,
, Editor in Chief, UBM's Future Cities