Does your city government need a chief of innovation? A chief of information? Neither? Both?
The subject came up on a recent Future Cities' message board thread about the desire governments have to push forward with IT projects, and the trouble they're having with doing so. I noted that some cities are employing chief innovation officers, which elicited this amusing and passionate reply from NewDream:
Adding a Chief Innovation Officer to go with the Chief Information Officer is depressingly like adding a Chief Bottle Washer to go with the Chief Cook. It's a new title for an existing role, and everyone can see right through the facade.
I got a good laugh (thanks again, NewDream) but also thought the subject was worthy of further discussion, particularly since cities like San Francisco and Philadelphia currently employ people in that very position.
Adel Ebeid is one such person. Formerly the CTO of New Jersey, Ebeid last year stepped into the role of chief innovation officer in Philadelphia -- the city's first. We caught up on the phone this morning to discuss the evolving role of the CIO, and the move from "information" to "innovation."
Click the image below to view the "Urban Transformation Needs IT" infographic: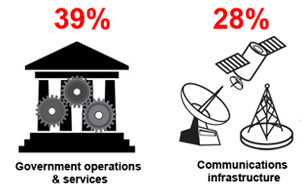 Indeed, it is an evolutionary move, at least in Philadelphia, where Ebeid doesn't work alongside a chief cook (or chief information officer). Rather, as the chief innovation officer, Ebeid is head of IT, wearing numerous hats: chief information officer, chief infrastructure officer, and chief inspiration officer... or, the "cheerleader that gets out there and really rallies everybody behind new solutions."
"Luckily in Philadelphia, I'm having my cake and eating it too. All the different roles are vested in just one person," he said.
But innovation is at the heart of his chiefing. And that, he says, has everything to do with the evolving nature of IT. Ebeid said:
When cloud computing came on the scene, many CIOs saw that as an opportunity to lighten their IT portfolio and get rid of infrastructure that was really kind of keeping them in the datacenter and in the back room, frankly. The CIOs that were able to do that suddenly saw time available to do other things and they started to be more public-facing. They started to get involved with more civic innovation and community engagement, so the role itself evolved naturally.
The difference, then, between traditional CIOs and chief innovation officers, said Ebeid, is that a traditional CIO is managing a complex IT environment, but a chief innovation officer is primarily outward-facing. "The primary role is to interact with the public, the local tech community, and develop rapid types of applications that are more along the lines of mobile apps as opposed to the traditional large systems."
However, for those of you who've already written him off as bottle washer in chief, it's important to note that while Ebeid still sees the need for cities to have "traditional" CIOs, he believes those people should be the same as the innovation officers:
I talk to a lot of mayors and some governors that call for advice about creating that role and I tell them, 'whatever you do, make sure you don't create another role that has to compete with the CIO.' It should be a single person who can balance the different hats that he or she has to wear.
And that person may very well still be called a chief information officer. Take Bill Oates, chief information officer of Boston, who retains the "old-school" title but is engaging in innovative projects alongside the office of New Urban Mechanics.
At an event in New York City, Oates told me:
As the CIO, and kind of a board member of Urban Mechanics, I have a nice ability to mix the tech aspects of it and the innovation aspects of it. One thing I tell people they have to avoid is, don't have the technology be the boring under-the-cover stuff and let the innovation teams get all the credit. There's a way to really mix that.
As Oates noted, he gets to mix this by working alongside the office of New Urban Mechanics, whose chairperson recently spoke to us about scaling innovation to other cities. One of those is Philadelphia, which just launched its own office of Urban Mechanics on Monday. "I see their role as being the matchmaker between government agencies that have problems that need to be fixed and the local tech community that can offer solutions," said Ebeid.
With an IT budget of $155 million, Ebeid is working on numerous projects, including a redesign of the city's business processes. ("I don't want to spend a dime on automation unless we've taken a look at the existing process and figured out how to tweak it, redesign it, and revamp it, with the customer at the center of it.") His other main focus is on establishing an "innovation ecosystem" in the city, which he described as "a framework for how to combine and align the city's resources and assets so we can show Philadelphia as a preferred place to live, work, and visit."
Are days numbered, then, for traditional city CIOs, who grew up in the datacenter? Not if they can get a grasp on running an IT department for a connected city -- encompassing the usefulness of hackathons; the move toward mobile, cloud, and services, and away from hardware and software.
Bottom line: It's not about being one or the other, nor is it about which "I" you represent in your title.
"If you get the right CIO, that CIO can be a traditional CIO, an innovative CIO, and even an inspirational CIO," said Ebeid. "If you don't get the right one then that person is going to become a chief irrelevant officer."
Related posts:
— Nicole Ferraro,
, Editor in Chief, UBM's Future Cities