What would it require for a city to become carbon neutral?
While this is a question more cities worldwide need to be asking, Copenhagen, a city lauded for its commitment to public space, is trying to be the first to find out.
Specifically, Copenhagen has developed a plan to see a 20 percent CO2 reduction by 2015 and to turn itself carbon neutral by 2025.
"This is not only a climate plan," said Jørgen Abildgaard, executive climate project director for the City of Copenhagen, in an interview with Future Cities. "It's part of long-term planning to have a more lively, green, smart city."
The latest draft of Copenhagen's plan is available here, but it essentially breaks down into four focus areas: energy consumption, energy production, green mobility, and the city administration.
Regarding energy, some of the larger-scale projects include installing more than 100 wind turbines before 2025, with a total capacity of 360 MW; as well as going from coal to biomass in power plants (according to Abildgaard, two blocks out of four have already been transitioned). The wind turbines are being installed both inside the city, in municipalities, and offshore. The city is working with its energy company, Copenhagen Energy, to find appropriate locations and negotiate deals.
On green mobility, the city is already well positioned: Over one third of Copenhangers use bikes every day. The goal for 2025 is for 50 percent of trips in the city to be made by bicycle. To get there, Copenhagen is planning for better bike lanes, better security for bikers, and fast-track bike lanes to the suburbs so people can ride into the office if they like. ("Hopefully you can get a bath when you get to work," said Abildgaard.)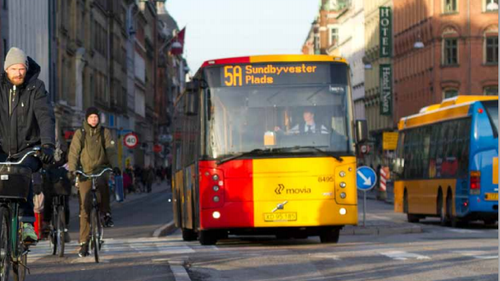 Increasing public transportation will be key, as the city -- like many others -- is expecting a population growth of 20 percent in the coming 15 years.
Abildgaard told us that the budget for next year is 500 million Danish Krones (or $100 million), which he said is "more or less in line with what we want."
Fortunately for Copenhagen, the city's citizens, businesses, and political figures are supportive of this overall shift toward a green, carbon-neutral future. Abildgaard acknowledged that it's not so simple in the United States:
The learning [experience] we've had since the first election of Obama is that it's difficult for the US to move on this on a federal level. On the other hand, what I think is really positive to see is you see a lot of cities in the US that are quite active. And they're doing a lot.
New York City, for its part, has implemented PlaNYC, a plan to reduce the city's carbon emissions by 30 percent by 2030.
Further, New York has included a breakdown of the city's plan on its "Innovation Exchange" Website, where it lists "international best practices and global city data." According to the NYC Global Partners' Exchange report on Copenhagen: "The findings in the plan can be used internationally, nationally as well as locally. The concrete initiatives are transferable to other cities and regions."
While Copenhagen's model may indeed be a good case study for cities that are at least looking to reduce their carbon footprint, other parts of the globe with emerging cities may want to take a look at Masdar City in Abu Dhabi, where GE is working toward building a carbon-neutral city from the ground up.
None of this will be achieved easily. Masdar City has already seen its completion date delayed until at least 2025, and Abildgaard noted that Copenhagen will revisit its plan annually and reevaluate what has been unsuccessful.
But existing and emerging cities would do well to take the carbon-neutral agenda to heart. As Bruce Katz, vice president at the Brookings Institute, said on SAP's Best Cities panel earlier this week in New York City, going for energy efficiency is as good for the economy as it is for the environment.
"I do believe cities in the mature economies that crack the 'no carbon' code are going to get the advantage of firms that are attracted to these cities," he said. "It's an environmental play but it quickly moves into an economic play."
Related posts:
— Nicole Ferraro,
, Editor in Chief, UBM's Future Cities