Hurricane Sandy was many things for New York City. Most importantly, it was a wake-up call that this city is vulnerable to the "bad things" that affect other global cities.
Previously, we in the Big Strong Apple survived on the attitude that "those things" (devastating natural disasters, and the like) don't happen to us. Well, actually they do. So now what?
New York City prides itself on strength and resilience, but if mitigating disaster and preparing for an inevitable future don't become top priority, denial and hubris will be the city's downfall.
Despite New York's prosperity as a financial center, a tourist destination, and an all-around model in many ways, the city should take a cue from smaller and less-prominent global cities that are actively embracing change because they know there's no other choice.
Take Durban, for example. It's the third largest city in South Africa, with a population of over 3.1 million. At the recent Smart City Expo and World Congress in Barcelona, I met with Jo Boulle, manager of policy implementation at the Environmental Planning and Climate Protection Department in the Environment and Management Unit of the eThekwini Municipality in Durban (got that?), to talk about the future of Durban and how it compares to what the rest of the globe is facing.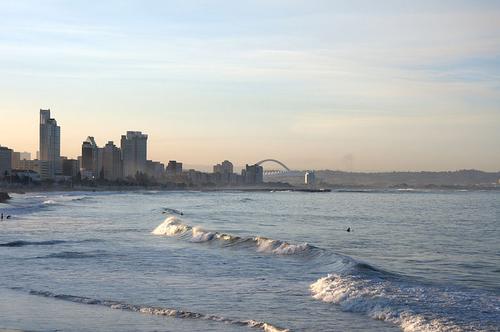 "In our city, the kind of future we're looking at is a future of higher temperatures, also far less predictable rainfall... periods of heavy rain and flooding, other extreme periods of drought," she said. "That for us is a dangerous combination of things."
It sounds dangerous, indeed, when you pair this future with present-day Durban, where many are already living in shacks without access to water or healthcare.
Fortunately, rather than waiting around in hopes of being spared, Durban is in preparation mode. Boulle's department, specifically focused on climate change adaptation, is working toward reducing carbon output, as well as preparing municipalities for what's to come and ensuring communities will have food and water security during droughts or storms.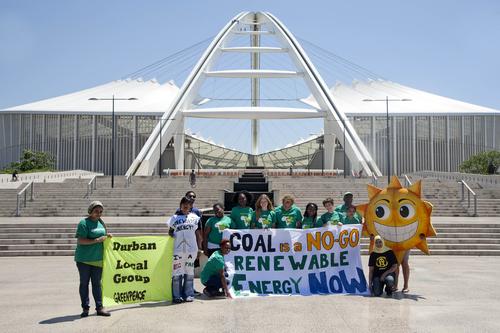 Preparing municipalities takes a lot of effort and involves everyone. As Boulle notes, climate change is "cross-sectoral." As an example, she offered that the healthcare sector will need to be ready for greater outbreaks of malaria in the event of extreme and unhealthy weather conditions.
Other climate adaptation efforts involve looking at restoring natural barriers that can prevent floods. "The wetlands are natural flood barriers," she said. "How do we restore them, and how do we involve communities in that restoration work so we don't only achieve adaptation benefits but we also employ communities that are poverty stricken as well?"
Some of these questions have no clear answers just yet, and Boulle described her budget from the government as "not big," though she noted that some adaptation work falls on other departments, and therefore, is funded out of other budgets.
The good news is that climate change and global warming aren't viewed as "bad words" in Durban, or in South Africa, as they often are here in the United States. "Everyone acknowledges it... sometimes you'll get the arch dissenter who says it's quite a load of rubbish," she said, but those individuals are, fortunately, the minority.
Nevertheless, for many in a population dealing with surviving the day to day, it's tough to grasp the need for change for the future.
"Crops that grew last year are not growing so well this year, and there's a vague understanding that maybe this is linked to something like climate change. But people are very focused on immediate needs," she said, noting that for most people this involves putting food on the table and finding employment.
"Thinking beyond this is quite difficult," said Boulle. "There's a vague acknowledgement that things are changing, that we need to do things differently. But there's still a preoccupation with meeting the needs of now."
Related posts:
— Nicole Ferraro,
, Editor in Chief, UBM's Future Cities