Don Det, in Laos's 4,000 Islands, is the most chilled-out spot I've ever been. The locals seem to wake up just to go back to bed. As a New Yorker, this is foreign to me.
They must have many words for sleep, as the Eskimos do for snow. There's night sleep, nap sleep, and even work sleep. In countless little groceries, stands, restaurants, and guesthouses, there are one or two people dozing on a thin mattress or hammock. They rarely mind when you rouse them from slumber to serve you. They're on the clock; it's work sleep.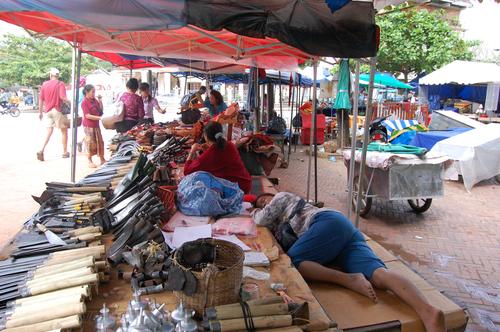 I've joked about this with the Western backpackers who pass through here, but they rarely laugh. They're here for that respite from their urgent urban lives. They love the unpaved bike trails, the lack of authorities, and the total absence of chain businesses.
Could even this sleepy place become urbanized, though? Fancy hotels are popping up already. They haven't crowded out the $5 per night waterfront bungalows, but they may within a decade. Proprietors from Western Europe, who sell joints and "happy" shakes and cookies, have set up establishments. Soon the spit of beach where soldiers of leisure wade ashore will have a proper dock.
But I hope Don Det won't be shaken awake from its dreams. As French colonialists used to say of Indochina, "In Vietnam, they plant the rice. In Cambodia, they watch the rice grow. And in Laos, they listen to the rice grow." For now, at least, it must sound like a lullaby.
Jimmy Wohl, (a New Yorker in) Don Det, Laos
Have a city story you'd like to share with us? Please send your 100- to 200-word "city diary" to editors@ubmfuturecities.com.